Basic Sustainability Policy
In order to realize our corporate philosophy, our group reflects social issues and changes in the business environment in our mid-term management plan, and practices ESG management to address issues through our business activities. In October 2022, we have established the Sustainability Committee and formulated the Basic Sustainability Policy.
Basic Sustainability Policy
Based on our management philosophy,
we actively promote ESG initiatives and strive
for coexistence and co-prosperity with all stakeholders.
Promotion of Sustainability
We have established a Sustainability Committee to enhance our active promotion of sustainability throughout the Group. Our President and Representative Director plays the leader of the committee and is composed mainly of multiple directors and managers of related departments, estabilishing a cross-organizational system.
Matters for deliberation by the committee are regularly submitted to and reported to the Executive Committee and the Board of Directors.
External Recognition: Received a Bronze Rating on EcoVadis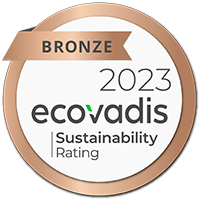 We received a "Bronze" rating in the 2021 sustainability review by EcoVadis*. A Bronze rating is given to companies that meet the criteria for scoring in the top 50%.
*

An appraisal organization for corporate ESG initiatives. Evaluate four areas: environmental, work practices and human rights, ethics, and sustainable materials procurement.