Research and Development
Research and Development Center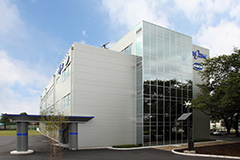 We are committed to continued research and development to provide highest quality measuring equipment.
The Research & Development Center located in Sayama City in Saitama prefecture is our largest and latest R&D base.
Overview
Location
At Sayama Technical Center, 613 Kitairizo, Sayama City, Saitama
Completion
2010
Total Floor Area
approx. 4,000㎡
Buildings

Steel frame 4 floors
1st floor experimental building(large-scale experimental equipment)
2nd to 3rd floor office work and research
4th floor large hall
EMC Test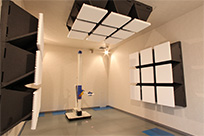 Evaluate resistance to electromagnetic waves leaking from equipment and external electromagnetic waves.
Large environmental test room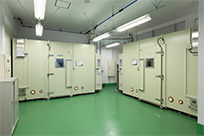 Set the environment at temperature of -30℃ to 80℃ and humidity of 10% to 90%
Clean Room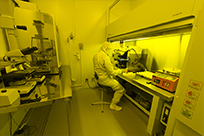 Environmental Air Monitoring Station
The industry's first Environmental Air Monitoring Station that displays air pollution measuring devices in one place.
We started the operation on January 30, 2014 as part of the commemorative project to celebrate listing on the First Section of the Tokyo Stock Exchange and our 70th anniversary.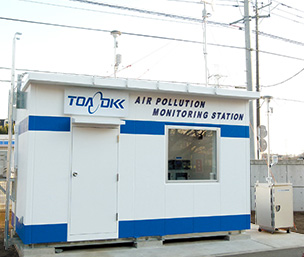 In addition to micro-particulate matter (PM2 5), this environmental air monitoring station can measure seven types of substances in the atmosphere, such as suspended particulate matter (SPMs) and nitrogen oxides (NOx), and record wind direction, wind speed, temperature and humidity. Data can also be transmitted to the outside through a data-recording communication system. We encourage local governments that wish to measure PM2 5 which is a concern for its impact to air pollution on a global scale, to visit our facilities and buy measuring devices and also plan to develop new products by constantly collecting data from all measuring instruments.

Inside the station building
They will also be used for technical training in companies that use measuring instruments to provide atmospheric substance measurement services to local governments. When various Asian countries first introduce air measurement, it is necessary to provide advice from the method of installing measurement stations to the method of air sampling. We explain them to the visitors in an easy-to-understand manner while observing installation examples at container-type environmental air monitoring stations.