Business Partners
Promotion of CSR procurement based on the Basic Procurement Policy
Our group procures materials from both Japan and overseas. Our corporate code of conduct stipulates "appropriate purchasing transactions," that encourages us to fulfill communication with our business partners and strive for fair and impartial procurement activities.
Selection Policy for Suppliers
At the start of transactions, we preferentially select companies that meet the following four conditions, and we also give priority to continuous transactions.
(1)

Complies with laws and social norms and emphasizes on consideration for human rights and the global environment

(2)

Performs sound management

(3)

Able to stably secure the necessary fees at the necessary times in order to respond to the delivery dates and demand fluctuations required by customers at appropriate prices and quality

(4)

Capable of stable supply and flexible response to fluctuations in supply and demand
Formulation of Basic Policy on Material Procurement
We will work on sustainable procurement activities with the understanding and cooperation of our business partners regarding the following matters.
(1)

Compliance with laws and social norms

Thorough compliance with related laws and regulations (antitrust law, commercial law, subcontracting law, foreign exchange law, personal information protection law, etc.)
Exclusion of relationships with companies related to anti-social forces
Not using conflict minerals

(2)

Consideration towards global environment

Promote green procurement that considers the global environment and reduce the environmental impact throughout the product lifecycle

(3)

Ensuring superior quality

In order to meet the needs of our customers, we strive to maintain and improve quality, meet our required standards, and provide safe, secure, and reliable products and services

(4)

Securing delivery dates and building a stable supply system

Build a stable and flexible supply system for materials and pharmaceutical affairs in order to continuously supply products to customers and respond to requests for changes in supply and demand

(5)

Maintain and improve the health of employees by implementing a safe work environment
Registered in "Declaration of Partnership Building"

We have announced the "Declaration for Building Partnerships" as we endorsed the purpose of the "Council for Building Partnerships to Open Up the Future" promoted by the cabinet office and the small-medium size enterprises. We aim to build new partnerships by promoting cooperation, coexistence, and co-prosperity with suppliers. From the perspective of business continuity and work style reforms in the event of a disaster, we introduce work-from-home for suppliers and give advice on BCP formulation. We will work to improve the productivity of the entire supply chain through information sharing and digitization. We also dhere to desirable trade practices, correct trade and business practices that hinder the building of partnerships.
Participation in the "White Logistics" Promotion Campaign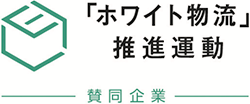 We have submitted a declaration of voluntary action in support of the "White Logistics" promotion campaign promoted by the Ministry of Land, Infrastructure, Transport and Tourism, the Ministry of Economy, Trade and Industry, and the Ministry of Agriculture, Forestry and Fisheries. Through the following 8 items, we will work together with the industry to promote work style reforms such as reducing the burden on truck drivers and improving efficiency.
Logistics improvement proposals and cooperation
Advance provision of shipping and receiving information from the first consignor
Separation of work parts other than driving
Extension of lead time
Usage of express ways
Promoting documentation of transportation contracts
Consideration of legal compliance status when selecting contract partners
Suspension, interruption, etc. of operation during abnormal weather, etc.0