Employees
Efforts for human resource development
Recruitement and Staff Training Policy
We position human resources with "sincere humanity," "rich creativity," and "robust spirit of challenge" that can embody our management philosophy of "integrity, creativity, and challenge" as the type of human resources we seek. , we will promote "recruitment" and "development" of autonomous human resources who voluntarily work on their work and take on challenges as two pillars of human capital investment.
We actively recruit and promote talented and motivated personnel regardless of whether they are new graduates or experienced employees
Our basic policy is to actively recruit and appoint talented and motivated personnel with consideration for nationality, origin, and gender equality. We will promote the hiring of experienced personnel and reinforce mid-career human resources who will be candidates for management successors and executives.
Inheritance of knowledge/skills according to specialized field and occupational hierarchy
In response to the growing need for measurement and globalization, human resource development consists of both company-wide training and department-specific training. In order to acquire skills, we will hold regular study sessions by experienced senior employees in departmental education and enhance OJT education based on the instructor system.
Self-development support (including reskill support) and career development support
In addition to supporting self-development through correspondence course and a qualification incentive system, we promote comprehensive skill development through systematic job rotations for young employees, participation in various projects, and cross-departmental work sharing, and accompany the career development of individual employees.
Through these efforts, we aim to build a strong organization that can withstand changes in the business environment and foster an organizational culture that can achieve sustainable growth.
Training lead-free solder alloy mounting engineers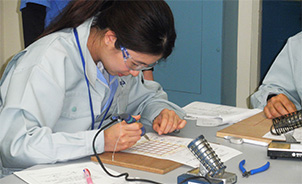 Lead-free soldering training
Prior to the enforcement of the EU's RoHS Directive (Restriction of the Use of Certain Hazardous Substances in Electrical and Electronic Equipment) in 2006, we have established an in-house work qualification system for lead-free soldering operations and have been conducting training since 2005. We are working to provide high-quality lead-free products by increasing the number of qualified personnel.
Realization of easy-to-work workplace
Policy for creating a comfortable working environment (internal environment improvement policy)
In order for a company to create and develop new value, it is essential to actively incorporate and integrate diverse human resources and values. As listed in the Charter of Corporate Behavior, "respecting individuality and ensuring a comfortable working environment with consideration for health and safety" are concretely implemented as follows.
Create a workplace that respects human rights and is free from discrimination
In addition to striving to raise awareness of respect for human rights and diversity and inclusion through in-house training, we will take appropriate measures to provide relief to victims and prevent recurrence in response to various types of harassment based on internal regulations.
Maintenance of good labor-management relations and development of a work environment in which each employee can play an active role
We will build good labor-management relations through regular exchange of information and opinions between the labor union and management, and we will work to improve work-life balance, provide support for childcare and nursing care, and provide various other leave systems in accordance with the life stages of employees. We will establish a system that enables flexible working styles.
Further promotion of employee safety and health management
We will strive to ensure safety and health in the workplace and safety during work, and in the event of an occupational accident or occupational disease, we will respond promptly and develop measures to prevent recurrence. In addition, based on the recognition that employee health is the foundation of corporate growth, we will strive to understand and improve the workplace environment in conjunction with mental health measures and work-life balance initiatives.
Promotion of work-life balance
We are actively working to reduce overtime hours and encourage employees to take paid leave. In fiscal 2021, we introduced an hourly paid leave acquisition system. We are also developing a system that enables a variety of work styles such as working from home and staggered work.
Related data: FY2022 results (independent)
| item | achievement |
| --- | --- |
| Percentage of women in managerial positions | 16.0% |
| Ratio of mid-career hires | 50% |
| Annual paid leave acquisition rate | 81.2% |
| Average overtime hours | 8.5 hours / person / month |
| Childcare leave acquisition rate | Females: 100% Males 50% |
| Return to work rate after taking childcare leave | 100% |
| Length of service | Males: 16.6 years Females: 18 years |
Obtained the highest level of "Eruboshi"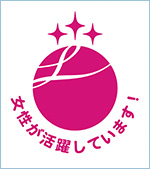 On March 26, 2018, we were certified by the Minister of Health, Labor and Welfare as an excellent company based on the "Act on Promotion of Active Participation in Women's Professional Life" and obtained the highest level (the 3rd stage) of the certification mark "Eruboshi".
We will continue to work to created an environment where diverse human resources can enhance their individual abilities and play an active role in the long term.
"Diverse Work Style" Certification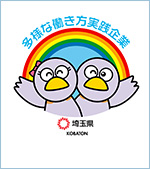 Sayama Technical Center was certified the Gold rank as a "Diverse Work Style Practice Company" by Saitama prefecture in April 2013 and received Platinum (highest rank) in February 2017 after meeting all the standards.
Certified as a "Senior Success Promotion Declaration Company"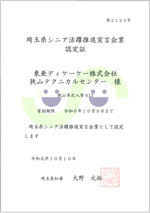 In October 2019, Sayama Technical Center was certified as a "Senior Success Promotion Declaration Company" by Saitama Prefecture. We are actively hiring diverse human resources, including seniors, to create a comfortable working environment for everyone.
Conducted mental health measures and harassment prevention training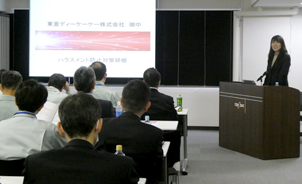 Based on the "Mental Health Promotion Plan" started in 2012, we are conducting training for stress checks and mental health measures, training for managers to prevent harassment, and e-learning throughout the Group.
Promotion of health management
We established the "Declaration for Health" to promote sound corporate management focused on the physical andmental health of employees and their families.
DKK-TOA Corporation
Declaration for Health
We hold the Corporate Behavior Charter "respecting the personality and individuality ofemployees, we will ensure a comfortable working environment with consideration for healthand safety." Following the Charter, we will endeavor to create such environment where everyemployee's physical and mental health is protected and each can work with passions andenthusiasm.
October 2018
President and Representative Director

Our Policy for the Health Promotion
We will strive to raise awareness for health among our employees and their families by various means including regularly sending information.
We will support the effort by each employee to independently maintain and improve their health.
We will adopt the spirit of the "Work Style Reforms" and "Work Life Balance" to understand and improve the work environment.
We will maintain our employee health checkup rate of 100% and aim for 30% of the "Specific Health Guidance" implementation rate.

*
*

Specific Health Guidance: Guidance for those who have been identified as "Motivation Support" or "Active Support" who are at high risk of developing lifestyle-related diseases based on the results of Specific Health Checkups that focus on metabolic syndromes.
"Silver Certification" awarded as a good health company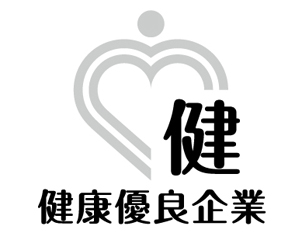 The Company issued "Health Company Declaration" to the Tokyo Federation of the Health Insurance Association in September 2018 and we received the "Silver Certification" (No. 907) for a good health company on October 2, 2019.
Our health improvement initiatives were evaluated and we received over 80 scores in seven areas, namely, "100% health check-ups", "utilization of health check results", "work environment", "food", "exercise", "stop smoking" and "mental health".
Certified as a sports promotion company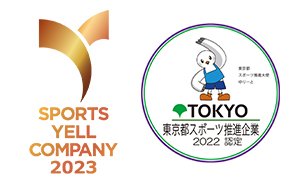 We provide subsidies for club activities such as tennis clubs, soccer clubs, baseball clubs, and ski clubs to support employees' sports activities. In addition, as an initiative to prevent lifestyle-related diseases and eliminate lack of exercise, posters displaying the calories burned by using the stairs are displayed on each floor of the head office and offices. As a result, we have been certified by the Japan Sports Agency and the Tokyo Metropolitan Government for the fifth consecutive year as a company that actively undertakes four initiatives to improve employee health.