Community
Donation of sodium hypochlorite activated water (activated water)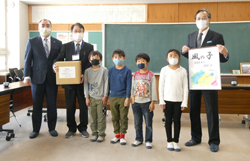 We donate our activated water, which has excellent disinfection and sterilization effects, to elementary and junior high schools in Sayama City, Saitama Prefecture, and to the Japan Braille Library near our head office. This activated water is prepared by safely diluting and mixing sodium hypochlorite and acetic acid with our product "Sodium Hypochlorite Activater". We also donate from our subsidiaries to Shinjo City, Yamagata Prefecture and Tono City, Iwate Prefecture.
Purchased Yamagata CO2 reduction value (J-credit) and received "Tohoku Support Award"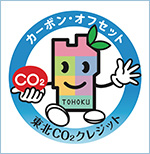 Yamagata Prefecture purchases CO2 reduction value created by Yamagata Prefectural CO2 Reduction Value Creation Project.
The purchase price of the credits is used for environmental conservation projects in Yamagata Prefecture.
In addition, in February 2018, the use of J-Credits for carbon offsetting activities for CO2 emissions related to annual electricity usage at the head office was highly evaluated, and in the 2017 Tohoku Regional Carbon Offsetting Grand Prix, Received the Support Award.
Participation in the local cleanup activities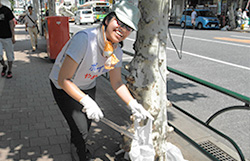 At the head office, we participate in the "Littering Prevention / Street Smoking Prohibition Campaign" in the area around Takadanobaba Station. This campaign is carried out with the aim of promoting beautification and cleaning activities in collaboration with local shops, residents, and government agencies, as well as encouraging visitors to cooperate in creating a beautiful city. The Sayama Technical Center also regularly cleans the area.
Company tours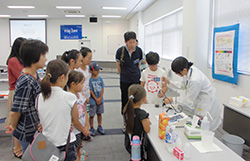 We accept company tours for local residents at Sayama Technical Centers / Research & Development Center.
In addition to lectures on environmental issues and tours of the facilities, we conduct measurement experience using samples of drinking water, soy sauce, soapy water and river water taken nearby.
We will continue to actively accept these tours for local residents to better understand our business.
Blood donation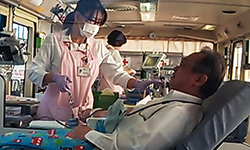 As part of our corporate social responsibilities, we receive blood donation car from the Japanese Red Cross Society on-site at the Head Office and Sayama Technical Center once a year to cooperate with blood donation.
Opening the ground to local events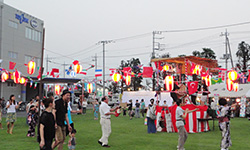 The ground on the premises of the Sayama Technical Center is used for local events such as "Bon Odori".
Accepting overseas technical trainees
Each year, we accept technical trainees from overseas who work for organizations including JCCP Japan Cooperation Center Petroleum and Kitakyushu International Techno-cooperative Association (KITA) and hold seminar on our products and quality control and tours of actual machines.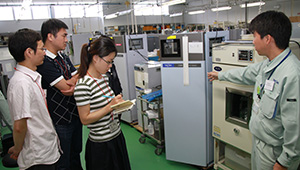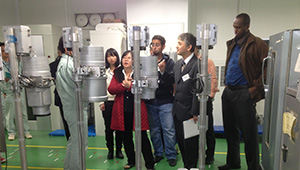 Participation in the JAIMA Summer Science School
We participate in the Summer Science School sponsored by the Japan Analytical Instruments Manufacturers' Association (JAIMA) as a cooperating company every year. At this summer school, high school students have opportunities to experience the operation of analytical instruments. Through this experience, we encourage the further understanding of analytical instrument technology that is the basis for supporting various industries and raising interest in science and technology. We will continue to actively support these projects.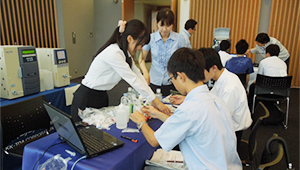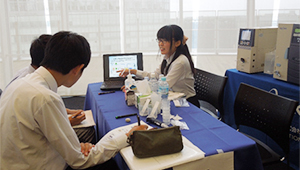 Participate in Ministry of the Environment's "Water Project"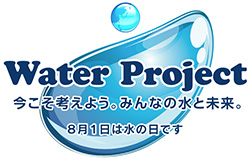 Supporting its purpose, we participate in the "Water Project", a public-private partnership education project aimed at maintaining or restoring sound water cycle promoted by Ministry of the Environment.
With the purpose of maintaining or restoring a healthy water cycle, they introduce water projects implemented by companies and disseminate information regarding the importance of water and related areas.
We will contribute to water quality management and prevention of environmental pollution by the production of measuring instruments. We will continue to promote educating employees and adopting eco friendly designs in our company buildings for conservation of water resource.
Installation of TABLE FOR TWO vending machine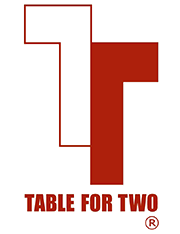 We have installed TABLE FOR TWO vending machine at Sayama Technical Center to support school meals in developing countries. TFT is a social contribution activity originating in Japan that simultaneously tackles hunger in developing countries as well as obesity and lifestyle-related diseases in developed countries.
When you purchase the subject products from this vending machine, part of the price you pay will be donated to support school meals in developing countries.
Supporting J2 soccer club "Montedio Yamagata"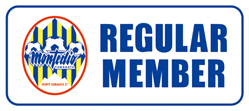 ©MONTEDIO YAMAGATA
"Montedio Yamagata" is the core club of the "Yamagata Prefecture Sports Promotion 21st Century Association", which is working to revitalize the Yamagata sports world and form a new sports climate. As part of maintaining and promoting friendly relations with Yamagata Prefecture and revitalizing the local community, we are supporting by registering as a regular member.
Supporting Japan Braille Library
Social Welfare Corporation Japan Braille Library is located near the head office, and the annual event is held by the same library. We provide an ongoing support, such as purchasing tickets for the "Charity Film Festival" (with audio commentary).
Participation in the "Calling & Supporting Movement"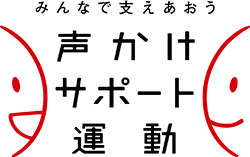 We participate in the "Calling & Supporting Movement" promoted by the Tokyo Chamber of Commerce and Industry. The movement encourage "calling out" to those who are in need of help, such as the elderly, children, people with disabilities and foreigners to create a community where everyone can live in a safe, secure and comfortable environment.
Because there is a Japan Braille Library near our head office, We incorporate how to speak to person who is blind in new employee training.
Registration of "PEEPO HYAKUTOBAN NO IE (a house or a shop that is registered as a function to patrol the neighborhood) "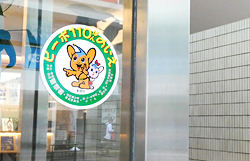 A sticker on the side of the entrance of the head office at a height that is easy for children to see
The head office has been registered in Shinjuku-ku "PEEPO HYAKUTOBAN NO IE". This is meant for an emergency evacuation place so that children may rush into when they face danger, such as being chased by a suspicious person. We will call 110 (number for police) and contact parents.
Certified as a company promoting the suppression of returning home all at once in Tokyo
Based on the "Tokyo Metropolitan Ordinance on Measures for Persons with Difficulty Returning Home", the Tokyo Metropolitan Government is promoting "simultaneous return home control" to stay in a safe place such as a company without having to walk around unnecessarily in the event of a disaster, and is actively promoting similar efforts. We have certified the companies that are promoting this as "Tokyo Metropolitan Government Simultaneous Return Home Suppression Promotion Companies". For the purpose of ensuring the safety of employees, we are constantly carrying disaster prevention cards, establishing a safety confirmation system, and deploying various stockpiles that can stay in the company for up to 4 days. In recognition of these efforts, we have been certified as a "Tokyo Metropolitan Government Simultaneous Return Home Control Promotion Company" from FY2020.
Educational support for Asian children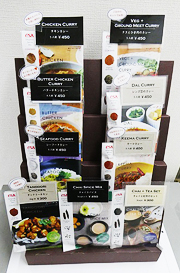 Exhibition of samples
Since the Group has been actively developing business in India in recent years, we support the activities of the ESA Asian Education Support Association, an NPO that supports education for children in Bangladesh and India while we mediate sales of curry / chai spice.