Global environment
Conservation of the global environment is a top priority in the modern society. In order to protect the global environment for the next generations, we will provide society with the technologies and products to help protect the environment as a manufacturer of environmental measurement equipment, while paying close attention not to pollute the environment ourselves as a manufacturing industry.
Environmental Policy
Recognizing the impact of our business activities on the environment, the Group has set the following environmental policies in carrying out development, design, procurement, production, sales and service for environment / process analyzers, scientific analyzers and medical equipment.
Promoting environmentally friendly business activities
We are committed to reducing environmental impact of our business activities to contribute to environmental conservation.
We will ensure optimized environment on the premises and work on the reduction of environmental impact by separating waste for recycling, etc.
We will address the environment conservation as a group in accordance with the environmental management system
The Group has acquired certification for the environmental management system (ISO14001), the universal standard. We will hold it as the corporate philosophy of the entire group and each member company will endeavor to work on the environmental conservation.
ISO14001 Environment Management System Certificate Received
Date of Certification / Certification Number
October 6, 2000 JQA-EM1031
Registered Entities
DKK-TOA Corporation (Headquarters, Sayama Technical Center / Research and Development Center, Tokyo Engineering Center), DKK-TOA Service Corporation
Providing environmentally friendly products and services
We comply with laws and regulations with respect to restrictions on the use of harmful substances and handling of chemical substances.
We aim to develop products that limit the use of harmful chemical substances such as lead-free product design to help reduce the environmental impact. We comply with the related laws and regulations for the storage, movement, transportation, consumption, and disposal, etc. of chemical substances including reagents and handle them properly.
Our initiatives to reduce environmental impact
Our Group Companies implement various measures to reduce environmental impact such as the separation of waste generated by business activities and separation of drainage routes.
Our projects for the reduction of environmental i
Projects
Project Summary
Sayama
Technical Center
Tokyo
Engineering Center
Waste Separation
1.Industrial Waste

Separate waste of combustible materials, recycled paper, non-combustible materials, metals, plastics, etc. and outsource their disposal.

●
●
2.Specially controlled industrial waste

Hazardous industrial waste including waste oil, waste acid, waste alkali, infectious industrial waste, waste PCB, waste asbestos and mercury.
Appointment of manager responsible for specially controlled industrial waste.
Stored in lockable storage space until delivered to waste disposal company.
Manage the process to final disposal by manifest. (industrial waste management form)

●
●
Separation of drainage route
1.Domestic wastewater
Drainage water from sinks and toilets is sent to the public water system via dedicated drain pipe.
●
●
2.Rainwater
In principle, rainwater is treated in-house for underground seepage treatment and overflow water passes to Sayama City rainwater public sewer system via rainwater management drainage pipe.
●
-
3.Drainage water from chemical work
Drainage water from chemical work is sent to the abatement facilities to be processed. After water treatment, it will go to the public sewerage system together with other domestic wastewater.
●
●
Installation of abatement facilities

Appointment of the manager responsible for pollution control.
pH adjustment of drainage water from chemical work to discharge to the public sewerage system.

●
●
Installation of Dry Well
Underground seepage of rainwater reducing burden on public sewerage system.
●
-
Inventory control for chemicals
Manage ledger from purchase to delivery in order to prevent leakage, illegal dumping and theft.
●
●
Air pollution control
Discontinue boilers to stop discharge of soot and smoke.
●
-
Prevention of subsidence
Prevents land subsidence by not sampling groundwater.
●
-
Local environmental conservation
Compliance with Saitama prefecture Factory Location Act. (green space area, environmental facility area and production facility area)
●
-
No Car Day
Monthly voluntary restraint of using commuting car.
(Using public transportation to reduce fuel consumption and exhaust emissions.)
●
-
Employment of IT to reduce working hours
Development of in-house information system for improvement of operations and reduction of working hours.
●
●
Reduction of paper usage
1.Digitization of documents
Digitize specifications, inspection reports, etc. to reduce the number of paper-based documents.
●
●
2.Reducing printing
Reduce printouts of lists and forms.
●
●
Review for packaging materials
Select materials that are recyclable and reusable.
●
●
Enhance productivity
Shorten lead time to reduce lighting and air conditioner usage.
●
●
Environmental / Safe Design
Setting the standards for product design and design based on the "Environmentally Compatible Design Evaluation List".
●
●
Transport Efficiency
At DKK-TOA Yamagata Corporation, the consolidated transport system is used between the bases to reduce transport by trucks.
●
●
100% renewable energy for the entire group company
Participation to "Re-energy 100 Declaration RE Action"

Our group has been gradually switching to 100% renewable energy since April 2019*1. For local sales offices that cannot switch due to tenant building circumstances, net-zero CO2 emissions by the Group is being achieved through CO2 reduction value (J-credits) implemented by "Yamagata TAIYO TO SHINRIN NO KAI" in Yamagata that allows carbon offset. We have participated in the "Renewable Energy 100 Declaration RE Action*2"since October 2021, and had been continuing to achieve 100% renewable energy from FY2021.
*1

Switching to 100% renewable energy-derived power consumption
April 2019-Headquarters, Tokyo Engineering Center
April 2020-Sayama Technical Center
April 2021-Yamagata Toa DKK / Iwate Toa DKK
Bionics equipment (high-voltage power part) since February 2022

*2

A framework in which companies, local governments, educational institutions, medical institutions, etc. express their goals to convert electricity consumption to 100% renewable energy by 2050 and take action.
Promotion of energy saving
There are factors that increase power consumption, such as business expansion and ventilation based on measures against the new coronavirus, but we are promoting power saving by limiting the use of air conditioning and lighting and introducing equipment with a high energy saving contribution rate. Specific initiatives In addition to encouraging everyone to take summer vacations, implementing Cool Biz and Warm Biz, and introducing LED lighting, we are also reducing peak power consumption at the Sayama Technical Center and Tokyo Engineering Center. 's electricity consumption was 4,429 MWh, a decrease of 9.2% from the previous year.
Changes in waste emissions and recycling rate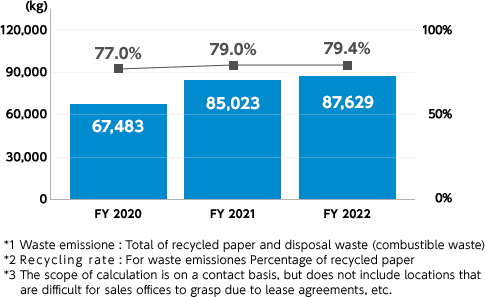 Water usage management
We are taking water-saving measures such as introducing water-saving equipment (automatic faucets, water-saving toilets). In addition, the Development and Research Center is working to make effective use of water resources by incorporating a system that uses rainwater mainly for flushing toilet. As for the wastewater from the Sayama Technical Center, we conduct regular inspections of our wastewater treatment facility (pH neutralization facility), calibrate measuring instruments, and carry outwater quality assessments periodically.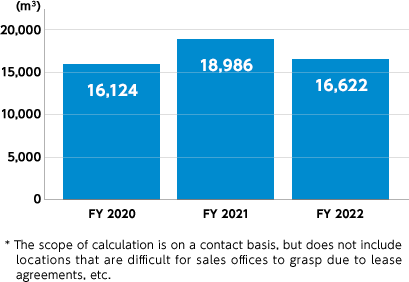 Reduction of environmental load in packaging and transportation
We also consider the environment in the process of delivering products to our customers. The pallets*1 used for mass transportation have been changed to lightweight, recyclable paper (cardboard) instead of the conventional wood. In addition, we are gradually switching from conventional polyurethane foam to paper cushioning materials for small products. In addition, we are switching to FSC-certified*2 products for cardboard boxes.
*1

Pallet: Cargo handling platform on which luggage is placed for efficient transportation

*2

FSC certification: An international system that certifies products produced under "appropriate forest management" for the purpose of sustainable forest utilization and conservation.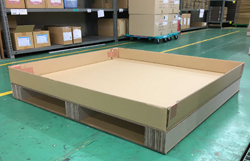 Paper pallet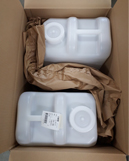 Paper cushioning material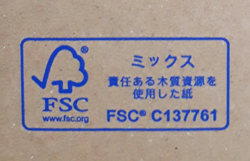 FSC certified cardboard box
Environmentally friendly manufacturing
Manufacturing products that purchase, design, produce, use, and dispose of materials and materials in consideration of the environmental load over the entire life cycle is one of the greatest social contributions for manufacturers. Our products are produced in collaboration with many suppliers. We have established a basic material procurement policy, and when selecting suppliers, we prioritize transactions with companies that understand and cooperate with our environmental policy, and promote green procurement. In addition, when developing new products or expanding the functions of conventional products, 8 items (weight reduction, long-term usability, reuse / recycling, ease of processing, environmental protection, packaging materials, information provision, energy saving) We also carry out an "environmental conformity assessment" to promote manufacturing that takes into consideration the impact on the environment.
In the case of "NPW-160H type" automatic measuring device for all nitrogen and all phosphorus for China
Reagent usage
3/5 (40% reduction) compared to the conventional model
JIS manual analysis ratio: Approximately 1/20 (94% reduction)
Pure water usage
17.5L reduction per year compared to the conventional model
Waste liquid amount
Annual reduction of 27.3L compared to the conventional model
Power consumption (average)
25% reduction compared to the conventional model (200W→150W)
Management of chemical substances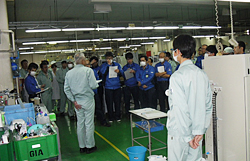 We have established "Safety Regulations for Analyzers that Handle Dangerous Chemical Substances Manufactured and Sold by Our Company" and are making efforts to minimize the impact on the environment through proper management of chemical substances and reduction of emissions. In order to respond to the tightening of chemical substance regulations in Japan and overseas, such as the PRTR Law*1 and RoHS Directive*2 , we have established a Chemical Substance Safety Management Committee to share information, examine countermeasures, and hold chemical substance handling seminars.
*1

Law Concerning Understanding of Emissions of Specified Chemical Substances into the Environment and Promotion of Improvement of Management

*2

Directive regarding the expiration date of specified hazardous substances in electronic and electrical equipment in the EU
Introduction of environment-friendly vehicles and eco-driving

As a company working to improve air pollution, we have been registered as a "Clear Sky Supporter"* in Tokyo. We have introduced low-emission vehicles (hybrid vehicles) in 52.5% of company vehicles, including executive vehicles and regular trucks, and are gradually switching to them. We also promote eco-driving that saves fuel and reduces repair costs. All vehicles are equipped with telematics services to promote safe driving.
*

A system in which the Tokyo Metropolitan Government Bureau of Environment registers businesses that are working to reduce nitrogen oxides (NOx) and volatile organic compounds (VOC), which are the causative substances of air pollution.
Environmental education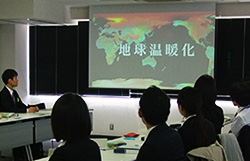 We are raising awareness so that each and every employee works to reduce environmental impact with awareness and responsibility. Environmental education is included in new employee training, and we provide lectures on the importance of water and our company's environmental efforts, as well as watching DVDs from the Ministry of the Environment on global warming. In addition, as an educational tool for broadly and systematically learning about diversifying environmental issues, we encourage employees to take the Eco Test (Environmental Society Certification Test), sponsored by the Tokyo Chamber of Commerce and Industry, and provide textbooks and other support.
Participate in Tokyo Greenship Action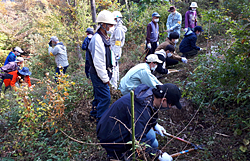 We participate in the "Tokyo Greenship Action," a natural environment conservation activity sponsored by the Tokyo Metropolitan Government Bureau of Environment, which is carried out in collaboration with companies, NPOs, and the government. We conduct mowing undergrowth and thinning with the cooperation of Hachioji Otani Ryokuchi Conservation Area Satoyama Conservation Volunteer Organization, NPO Midori Support Hachioji and Hachioji Ryokuyukai, participated mainly by new employees every year.
Issuance of ESG communication "HOIPPO"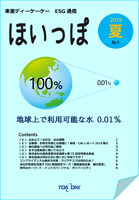 We publish a quarterly magazine for sharing information within the company regarding the efforts of E (environment), S (society), and G (governance), which are important issues that require consideration and responsibility in connection with corporate activities.
Cooperation in green feather campaign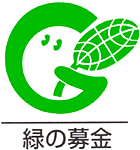 We use the Quo Card with donations for green feathers as a shareholder benefit. The green donation is run by the National Land Afforestation Promotion Organization, and the collected donations are used for forest maintenance, greening promotion projects, and human resource development related to forests in Japan and overseas.
Research and Development Center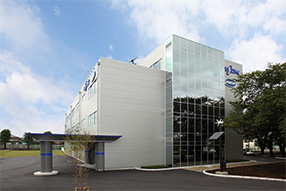 Adoption of eco-design
for global environmental conservation
The Research & Development Center (at Sayama Technical Center) has adopted eco-design to reduce environmental impact. The facility symbolizes our commitment to environmental protection and we engage in research and product development for new measurement technologies there.
Rainwater Recycling System
We adopt the system using rainwater called "recycled water" to be used mainly for cleaning toilet. After rainwater is collected in a rain gutter, dust is removed through rainwater screen basin and stored in the basement of the building. The collected rainwater is supplied to toilets with pressure pump. We sterilize the water supply to ensure hygiene management.
solar power system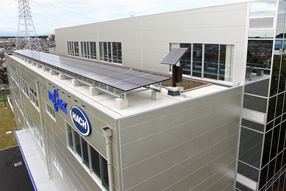 Power generation system using solar panels installed on the 4th floor terrace.
It has an output of 15kW and can generate approx. 15,000kWh of electricity annually.
Monitoring Rainwater Recycling / Solar Power System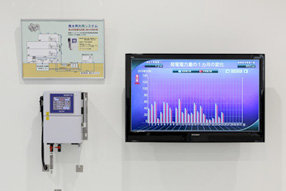 Our product monitors the quality of recycled rainwater and also displays the status of electric energy generated by the solar power system.
Low-E pair glass
For the south facing windows of the building, we use Low-E (low reflection) pair glass, which is a double layered glass coated with a special metal film. It is effective in saving electricity in summer and winter.
Street light with power generation function (LED lighting specification)
This street light is lit by a hybrid generator consisting of solar panel and wind power generator. The maximum output by the solar cell is 168W and the rated output of the wind power generator is 64W (rated wind speed 10m/sec).
We use 21 LED light bulbs (white type) with the power consumption of 18.9Wh. It has a storage capacity of 5 days with 10 hours of lighting per day.
Rooftop Greening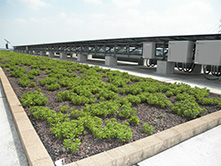 Our building has rooftop greening space of 107.5㎡ on the 4th floor terrace where we grow four types of plants of Sedum Reflexum, Coral Carpet, Phedimus and Sedum Mexicanum. Rooftop Greening enhances the heat insulation effect on the rooftop and help reduce electricity usage for heating and cooling.
Recycled Interlocking Block
For the paving of customer's parking lot and passages on the east side of the building, we use paving materials called "Recycled Interlocking Block" containing molten waste slag to prevent surface temperature rise.
Medical Equipment Production Building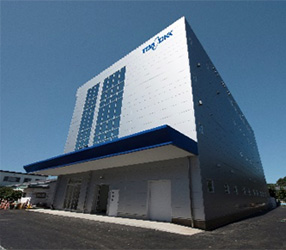 The medical-related equipment production building was built at Sayama Technical Center in October 2017 with the aim of increasing the production of powder type dialysis agent dissolution equipment necessary for artificial dialysis and developing new products such as clinical medical products.
We have adopted eco-design for the building incorporating environmental impact reduction technology for the natural environment.
CASBEE A rank obtained
The new production building was built to improve the productivity of medical related equipment and conduct efficient and effective R&D using environmental and energy-saving equipment such as solar power generation for harmonization with the surrounding environment.
We have received an A rank for CASBEE* which is a system that comprehensively evaluates Quality (environmental quality of buildings), Load (environmental load of buildings), Load Reduction (environmental load reduction of buildings), and Built Environment Efficiency (environmental efficiency of buildings).
*Comprehensive Assessment System for Built Environment Efficiency
Solar Power System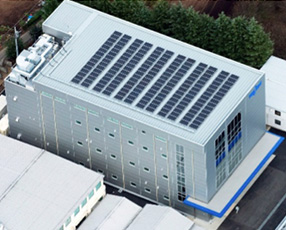 Solar power generation system installed on the rooftop.
It has output of 49.5kW and can generate 48,310kWh per year (average annual electricity consumptions by 10 general households) with annual CO2 reduction of 25,771kg.
Low-E pair glass
For the windows of the building, we use Low-E (low reflection) pair glass, which is a double layered glass coated with a special metal film. It is effective in saving electricity in summer and winter.
Power saving vending machine
We have power saving vending machine (annual power consumption of 500kWh or less) installed.