Installation Examples
Installation Examples of Analytical Instruments and Laboratory Analyzers
Dr. Yuji Sakai PhD in Engineering Associate Professor
Environmental Restoration Engineering Institute Kogakuin University
What is the theme of your research?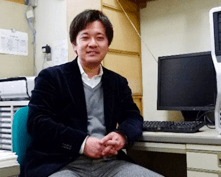 Dr. Yuji Sakai
I conduct research on the theme of environmental improvement. Environmental issues such as global warming and desertification are becoming more serious on Earth. In this laboratory, our focus is on practical improvement of environmental issues in Japan and overseas, mainly with respect to soil, using original technologies. For example, we are working on improvement of desertified soils using waste generated at the desulfurization process in thermal power plants and at construction sites in China, development of carbon fixation technology*1 in large-scale afforestation areas in Australia and environment restoration through mangrove afforestation in southern Thailand.
In Japan, we are developing improvement methods using biomass in the areas where desertification of the ocean, commonly known as "Isoyake", is taking place.*2
*1 The function of a plant to retain carbon dioxide taken in from the air as a carbon compound. This function is considered to be used to reduce carbon dioxide in the atmosphere and prevent global warming.
*2 Seaweed communities decay and disappear significantly, affecting the marine ecosystem.
What is your research method?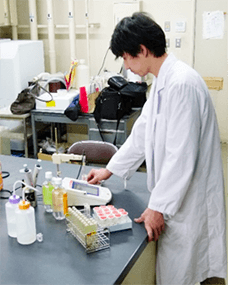 Measurement Scene in the Laboratory
It is essential to conduct measurement at fields since our aim is to improve the environment while effectively using biomass and industrial waste. We first measure soil at the field to ascertain the conditions at the site and then return to the university to evaluate mechanism and improvements to make.
How do you use our products?
Since we make measurement both on-site and in the laboratory, we use portable analyzers for the field on-site and laboratory analyzers in the university laboratory to perform soil analysis.
We select a product not only by its accuracy, but also strength and ease of maintenance. If they are for the field, we choose the products that are compact, lightweight and highly waterproof. We also care for their designs. Since there are a variety of products available, we try to select products that match our research and are easy to use.
pH Meter HM-25R
For analysis of soil and water quality

Portable Water Quality Meter with simultaneous measurement for many items
WQC-24
Used at field work overseas