Installation Examples
City Water in Tokyo
We help supply safe and delicious water
Automatic Water Quality Analyzer for City Water
MWB4-72
The Water Supply Law in our country requires daily inspection of city water to examine color, turbidity, residual chlorine, etc. of the water to ensure supply of "safe and delicious water" to every household.
With this Automatic Water Quality Analyzer, you can automatically and continuously monitor the inspection items that are essential for "safe and delicious water" to maintain and manage the quality of city water. The device can be used to measure total seven inspection items including residual chlorine, that are color, turbidity, pH, electronic conductivity, water temperature and water pressure.
Our products, since the previous series, have been used by many local governments including Tokyo and have also been adopted overseas such as in South Korea contributing to producing "safe and delicious water" around the world.
Installation Examples
The devices are installed in public places such as at parks and monitor the quality of city water at the end.

Installed at 150 locations in Tokyo
Clean Water Analyzers Used in Seoul, South Korea
For Safe and Delicious Water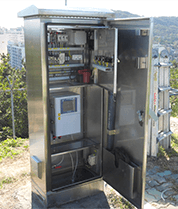 MWB4 type in operation
Japan's city water is know to be the only city water in the world that people can drink directly. In Seoul, South Korea, they also continue to improve the system for monitoring the quality of city water in order to provide its citizens with safe and delicious water. The observed data can be viewed in real time on the website of the Waterworks Division of Seoul City.
DKK-TOA has delivered water quality analyzers to many waterworks in Seoul for a number of years and the product performance and technical support have been highly evaluated. The track record lead our customers in South Korea choosing to adopt our automatic water quality analyzers for city water MWA4 model and MWB4 model (market share 90%) among many other brands in the market.
We are committed to continued provision of our products in South Korea to help supply safe and delicious water in the whole region.